Description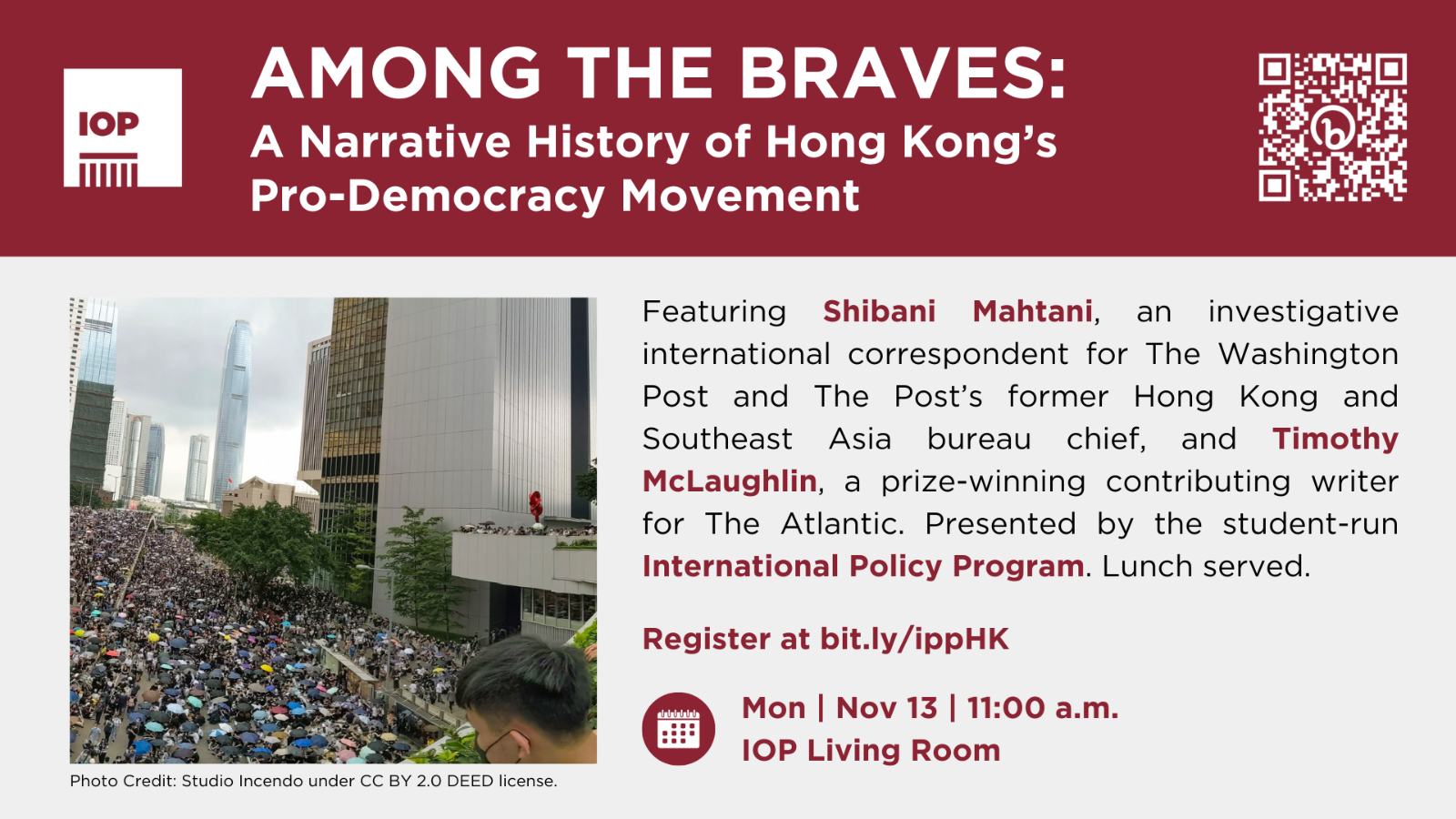 The student-led International Policy Program presents, Among the Braves: A Narrative History of Hong Kong's Pro-Democracy Movement.
Following the crackdown on Tiananmen Square protests in 1989, Hong Kong has centered the fight for democracy in East Asia. A symbol of global activism, Hong Kong's pro-democracy movement has since represented the fight for Hong Kongers' identity and desire for freedom. Long overlooked in retellings of this movement have been the voices of Hong Kong activists whose fight for democracy took them from Tiananmen Square to the 2019 mass protests in the streets of Hong Kong.

Thus, through the eyes of two frontline journalists comes a gripping narrative history of the Hong Kong pro-democracy movement centered around a cast of core activists, culminating in the 2019 mass protests and Beijing's brutal crackdown. In Among the Braves, Shibani Mahtani and Timothy McLaughlin tell the story of Hong Kong's past, and what the sacrifices of its people mean for global democracy's shaky foundation.

Shibani Mahtani, an investigative international correspondent for The Washington Post and The Post's former Hong Kong and Southeast Asia bureau chief, and Timothy McLaughlin, a prize-winning contributing writer for The Atlantic, will join the International Policy Program to introduce their new book, Among the Braves, and describe Hong Kong's pivotal role in global activism.


The event will be in-person in the IOP Living Room, with Shibani Mahtani and Timothy McLaughlin joining us in-person on November 13th, 2023 at 11:00 AM. Vegetarian and non-vegetarian options will be provided as well as copies of Among the Braves will be available for sale.