Description

Climate Policy with White House Senior Advisor John Podesta & Former IOP Fellow Fred Hochberg
July 19th, 6:00 pm - 7:00 pm
Meridian House (1630 Crescent Pl NW, Washington, DC)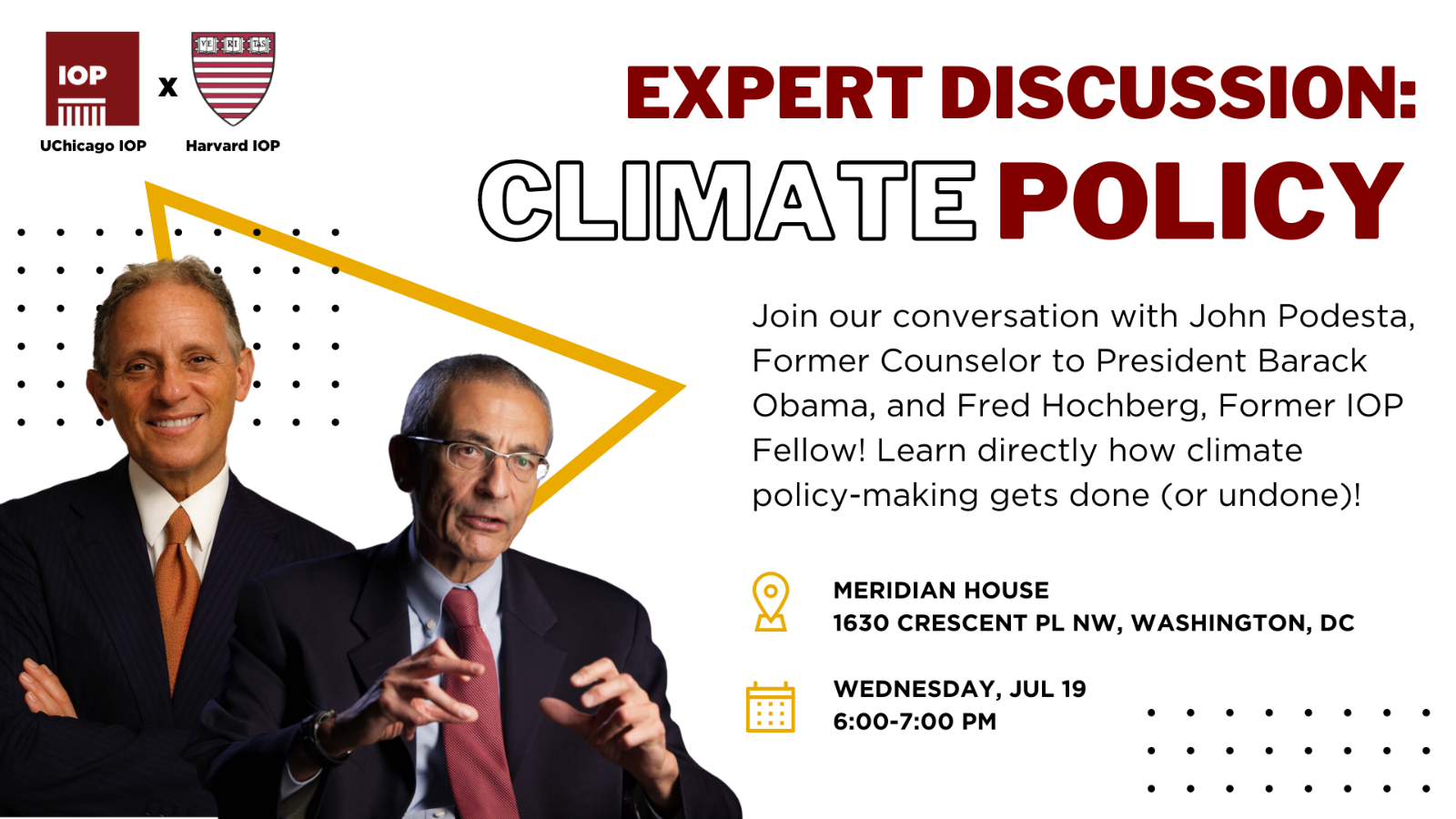 Details:
Location: Meridian House - 1630 Crescent Pl NW, Washington, DC 20009
Date: Wednesday, July 19
Time: 6:00 p.m. - 7:00 p.m.
Attire: Business Casual
About the Speakers:
John Podesta:
John Podesta is the founder and chair of the Board of Directors for the Center for American Progress. Podesta also Chairs the board of ClimateWorks Foundation and serves on the Board of the Climate Jobs National Resource Center. Podesta served as counselor to President Barack Obama, where he was responsible for coordinating the administration's climate policy and initiatives. In 2008, he served as co-chair of President Obama's transition team. He was a member of the U.N. Secretary General's High-Level Panel of Eminent Persons on the Post-2015 Development Agenda. Podesta previously served as White House chief of staff to President William J. Clinton. He chaired Hillary Clinton's campaign for president in 2016.
Fred Hochberg:
Fred P. Hochberg served as the Chairman and President of the Export–Import Bank of the United States (EXIM) from 2009–2017, becoming the longest-serving Chairman in the institution's history. Hochberg also served for five years as Dean of the Milano School of International Affairs, Management, and Urban Policy at the New School in New York City, and has been as a fellow at the Harvard Kennedy School of Government's Institute of Politics and David Axelrod's Institute of Politics at the University of Chicago.
Previously he served as acting administrator of the Small Business Administration under President Clinton. Before entering public service, Hochberg spent almost two decades leading his family's direct marketing business, Lillian Vernon, where he oversaw a 40-fold increase in revenue. In January 2020, Hochberg's first book Trade Is Not a Four-Letter Word: How Six-Everyday Products Make the Case for Trade was published by Simon & Schuster.
Questions? Email IOP Career Development (iopcd@uchicago.edu).