Description

IOP Summer 2023 Remote and Around the World Internship Programming: Introduction and Book Club
Wednesday, June 28th, 12:00 pm - 1:00 pm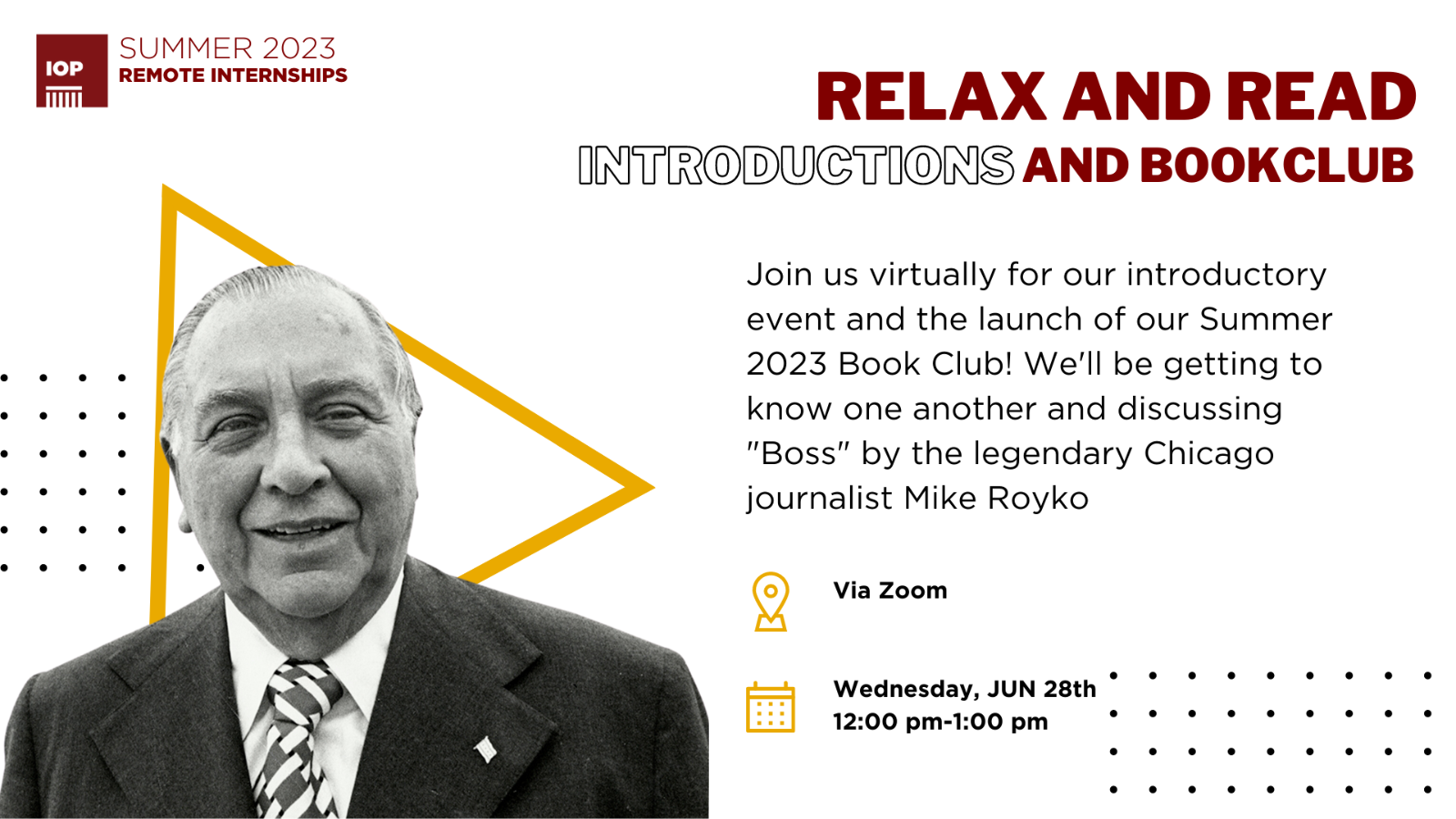 Mark your calendars for Wednesday, June 28th, from 12:00 PM to 1:00 PM CST for a meet and greet and the launch of our Remote Summer Book Club series. The purpose of this event is two-fold: to foster connections and to delve into the book 'Boss' by Mike Royko.
For the initial 30 minutes, we will focus on getting to know one another, creating an opportunity to form deeper connections and foster a sense of community, even across geographical boundaries. Following introductions, we'll officially launch our Summer 2023 Book Club. Our first book will be "Boss" by legendary Chicago journalist Mike Royko. From the back cover:
"The classic story of the late Richard J. Daley, politician and self-promoter extraordinaire, from his inauspicious youth on Chicago's South Side through his rapid climb to the seat of power as mayor and boss of the Democratic Party machine. A bare-all account of Daley's cardinal sins as well as his milestone achievements, this scathing work by Chicago journalist Mike Royko brings to life the most powerful political figure of his time: his laissez-faire policy toward corruption, his unique brand of public relations, and the widespread influence that earned him the epithet of "king maker." The politician, the machine, the city—Royko reveals all with witty insight and unwavering honesty, in this incredible portrait of the last of the backroom Caesars."
With Royko's expert storytelling and intimate knowledge of the subject, this book will offer an in-depth perspective on Chicago's history and politics. Please arrive having already read the book (or at least a few chapters of it). However, if you don't have the chance to read it between now and then, we'd still love for you to join our conversation.

Registration will remain open until one hour before the event, and Zoom links will be sent directly to all registered participants.
Thank you so much, and we look forward to seeing everyone next week!
Questions? Email IOP Career Development (iopcd@uchicago.edu).