Description

UChicago Summer in Chicago (SIC) Programming: Coworking Day and Book Club
Thursday, June 29th, 9:00 am - 4:00 pm
University of Chicago Institute of Politics (5707 S Woodlawn Ave, Chicago, IL 60637)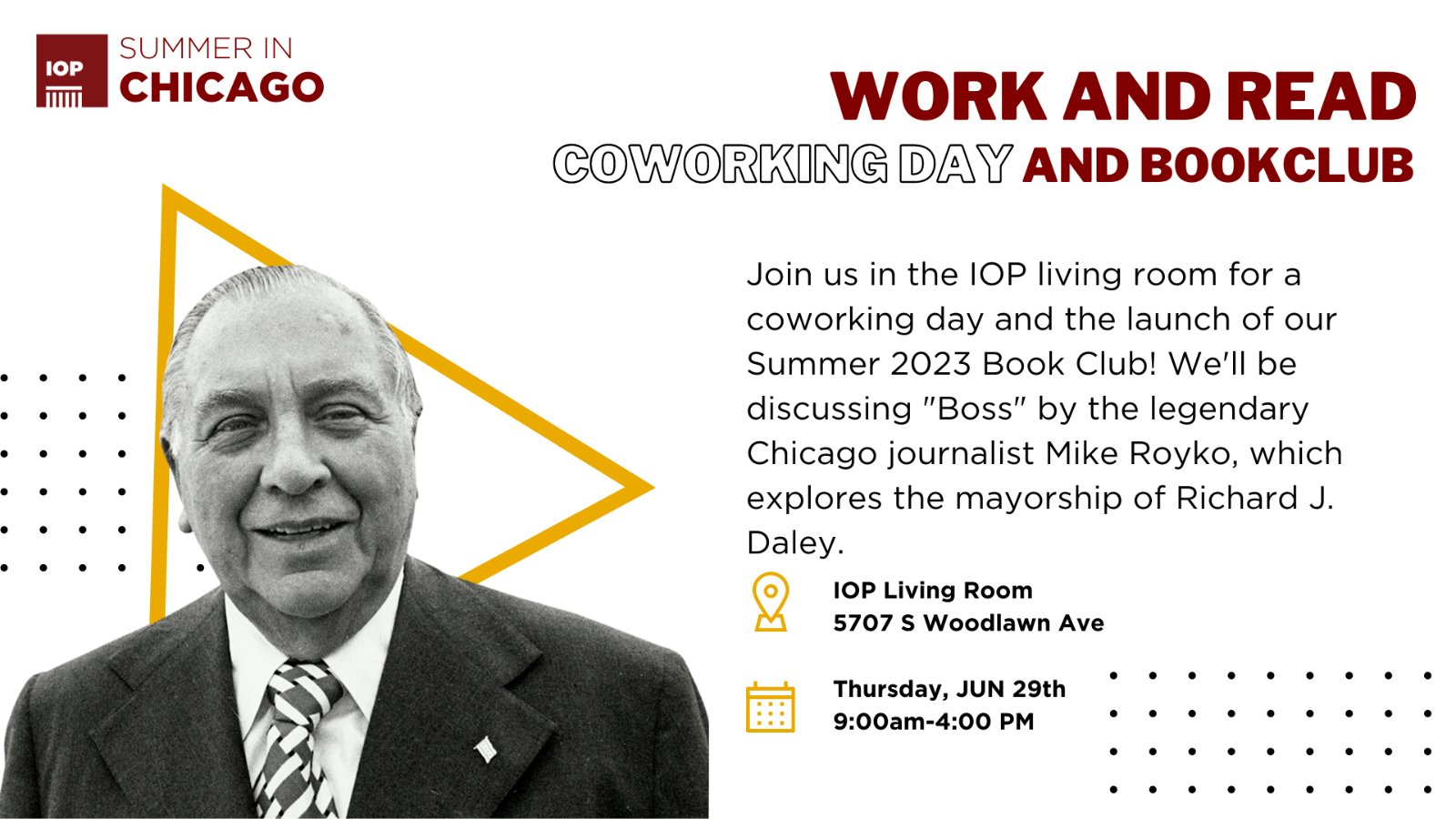 Mark your calendars for an exciting event on Thursday, June 29th! From 9:00 AM - 4:00 PM, collaborate with fellow interns and tap into the collective energy of your peers during a dynamic coworking day in the IOP's Living Room. In addition, during the lunch hour we'll also be launching the Summer 2023 Chicago Book Club Series. Our first book will be "Boss" by legendary Chicago journalist Mike Royko. From the back cover:

"The classic story of the late Richard J. Daley, politician and self-promoter extraordinaire, from his inauspicious youth on Chicago's South Side through his rapid climb to the seat of power as mayor and boss of the Democratic Party machine. A bare-all account of Daley's cardinal sins as well as his milestone achievements, this scathing work by Chicago journalist Mike Royko brings to life the most powerful political figure of his time: his laissez-faire policy toward corruption, his unique brand of public relations, and the widespread influence that earned him the epithet of "king maker." The politician, the machine, the city—Royko reveals all with witty insight and unwavering honesty, in this incredible portrait of the last of the backroom Caesars."
With Royko's expert storytelling and intimate knowledge of the subject, this book will offer an in-depth perspective on Chicago's history and politics. Please arrive having already read the book. However, if you don't have the chance to read it between now and then, we'd still love for you to join our conversation.
Lunch will be provided as long as you register by noon on June 28th.
Come prepared to learn, to work, and to be inspired by your peers!
Questions? Email IOP Career Development (iopcd@uchicago.edu).