Description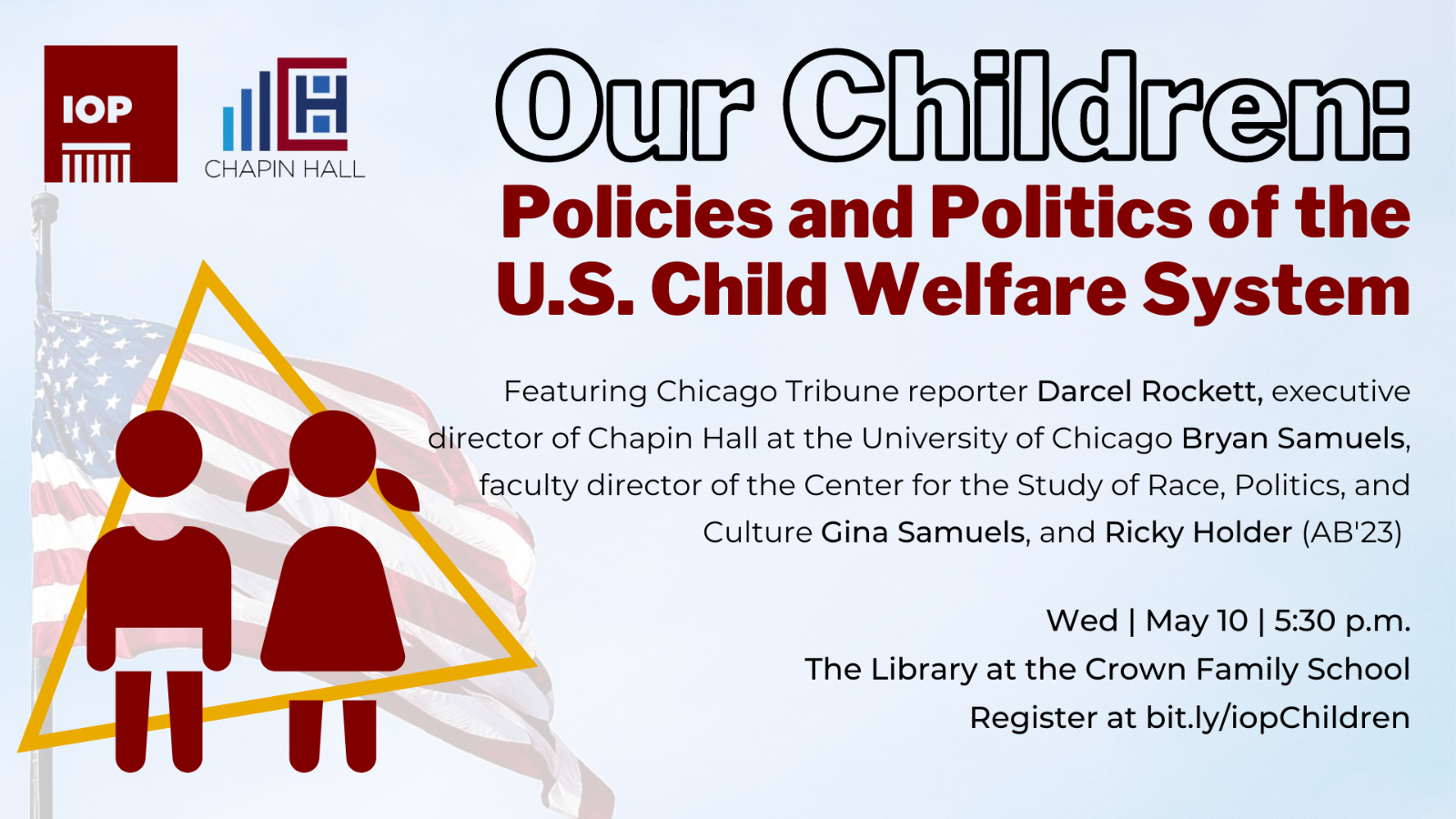 Join us for an informative discussion on one of America's least discussed and least understood institutions: the U.S. child welfare system. This event is made possible through a collaboration between the IOP and Chapin Hall and will shed light on the system's link to some of the most pressing issues in our country including the opioid epidemic, criminal justice, race, homelessness, and poverty.
Who are the families most impacted by the child welfare system, and why is involvement in the system so often associated with adverse outcomes? What are the current challenges and opportunities in reforming the child welfare system? These are just some of the questions that will be addressed by our esteemed panel of speakers who each have lived experience in or adjacent to the child welfare system.
Don't miss this opportunity to learn more about the child welfare system and how we can work towards meaningful reform.
Moderator:
Darcel Rockett is a writer and curious soul—the latter informing the former. Her curious nature has led her to write for news organizations in London, the Virgin Islands, Los Angeles, and NYC. She currently serves as a reporter for the Chicago Tribune, where she is adamant on writing articles for and about populations/communities who need to be heard.
Panelists:
Bryan Samuels is a nationally recognized leader on child welfare and serves as the executive director of Chapin Hall at the University of Chicago, an independent, nonpartisan policy research center aimed at improving the lives of children, families, and communities. Prior to joining Chapin Hall in 2013, Samuels was the commissioner of the Administration on Children, Youth and Families at the U.S. Department of Health and Human Services.
Gina Samuels, is a professor at the Crown Family School of Social Work, Policy, and Practice and the faculty director of the Center for the Study of Race, Politics, and Culture. Her scholarly interests include transracial adoption, mixed-race and multiethnic identity formation and the development of relational, kinship, and cultural ties among young adults whose childhoods are shaped by displacements caused by foster care, adoption, and home loss.
Ricky Holder, is a fourth-year University of Chicago student and a former foster child. A recipient of the Marshall Scholarship, he will work toward his MPhil at the University of Oxford where he intends to do a comparative study of child welfare systems throughout the world.