Description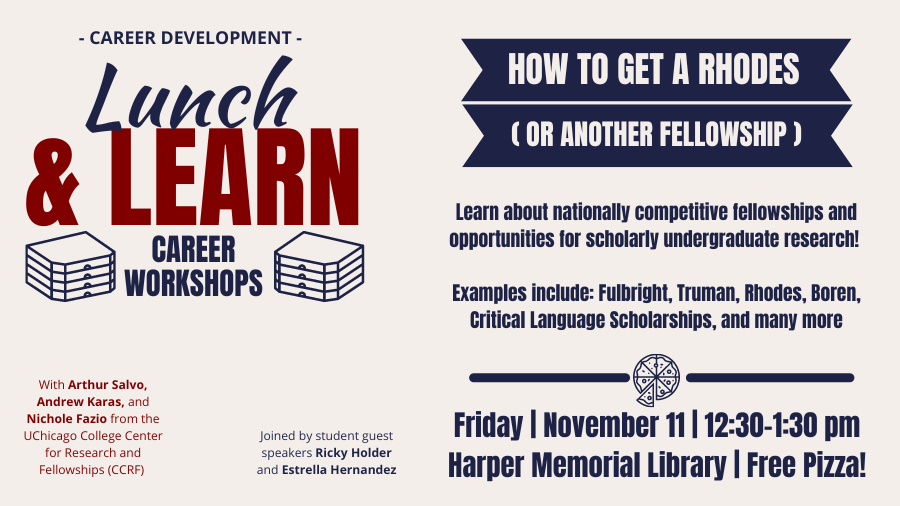 Undergraduate Fellowships, Awards, and Scholarships
Friday, November 11th
*This event has been moved from the IOP Living Room to Harper Memorial Library rooms 284 and 286*
How do you get a Rhodes (or another) Scholarship/Fellowship? Join the IOP for a Career Development Lunch & Learn discussion with the UChicago College Center for Research and Fellowships (CCRF) as we learn about their office's support of undergraduate students pursuing academic excellence through scholarly undergraduate research and nationally competitive fellowships.
CCRF staff Arthur Salvo, Andrew Karas, and Nichole Fazio will present. We will also hear from two students who have worked with CCRF staff extensively on applications: Ricky Holder and Estrella Hernandez (IOP Student Advisory Board Co-Chairs).
CCRF promotes meaningful connections between faculty and students, encourages mentorship, provides high-impact advising and educates the UChicago community about opportunities for students across disciplines.
Lunch will be provided.
If you have any questions or dietary restrictions, please contact Mark Schauerte or Laresa Lund.