Description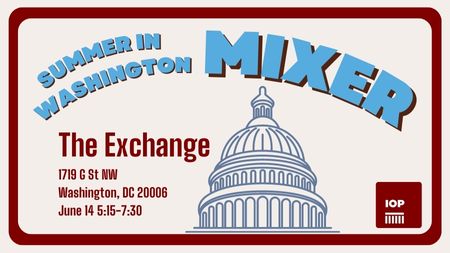 Summer 2022 IOP Interns: Welcome to D.C.! We hope you are situating yourself within the city and taking advantage of what the nation's capital has to offer.
Join your fellow DC-based interns for the first IOP event of the summer, including casual conversation and free appetizers from 5:15–7:30 at The Exchange, 1719 G St NW, Washington DC 20006.
A few alums will join us for events throughout the summer! We are honored to have a Staff Assistant for the U.S. House of Representatives Aliza Oppenheim '21 join us for our first IOP Summer in Washington mixer of 2022. Current interns are encouraged to network with our alums and learn a bit more about their career paths.
If you have any questions, please contact IOP summer programming intern Aidan Shannon.
*You are receiving this invitation because (1) you are a recipient of full or partial IOP summer internship funding and our records indicate that you will be in D.C. for all or part of the summer, or (2) you are a Public Policy Leaders Program student who is invited to our IOP summer programming, or (3) you are an IOP-affiliated student who has been invited to participate in our summer programming, but are not receiving an IOP stipend.