Description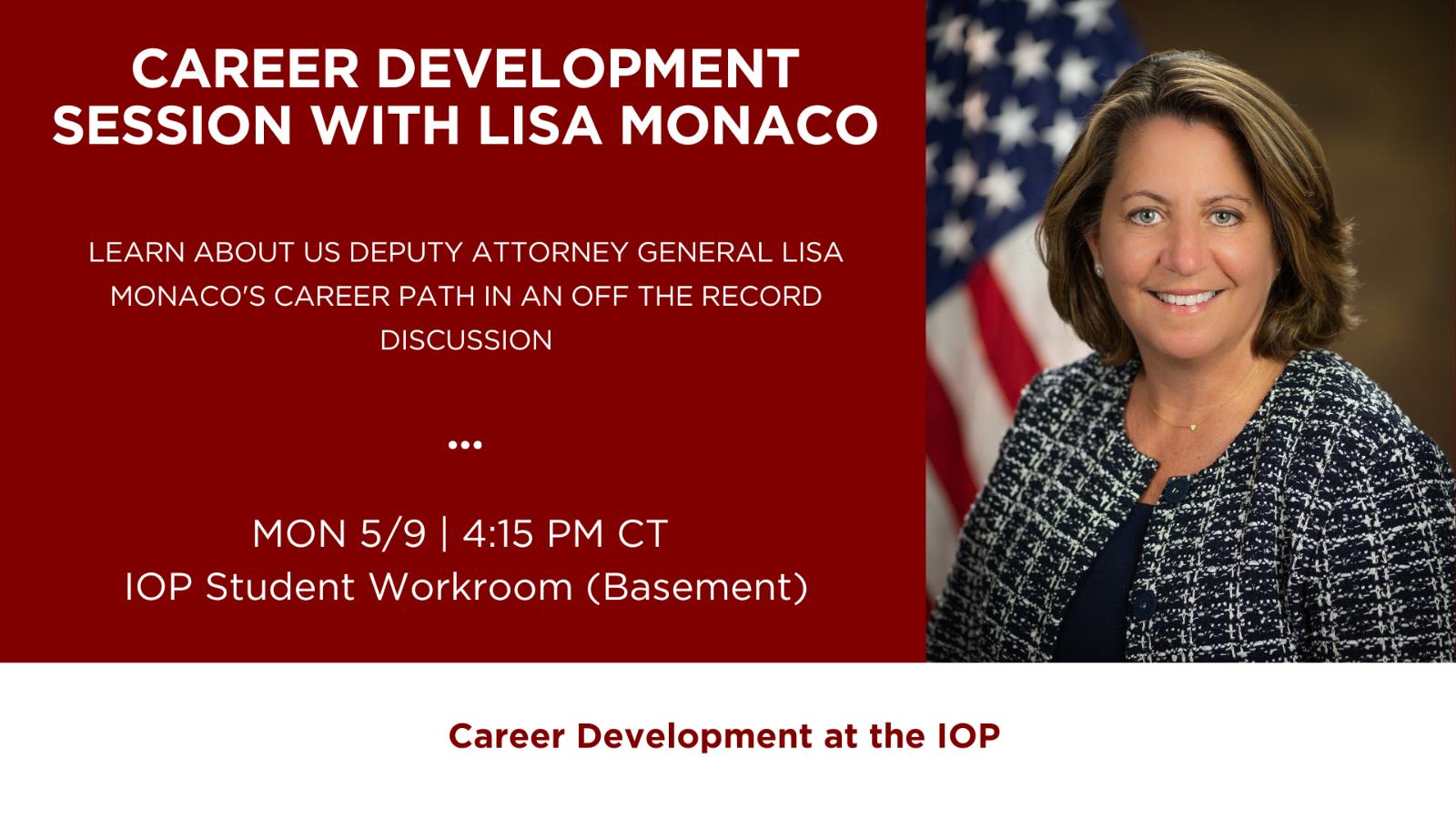 ---
VENUE: IOP Student Workroom - Basement Level (5707 S Woodlawn, Chicago, IL 60637)
DATE: Monday, May 9th
TIME: 4:15 pm - 5:00 pm
Join us for conversation with Monaco about her career path. Students can ask questions in an off the record environment.
As the 39th Deputy Attorney General of the United States, Monaco is the Department's second-ranking official and Chief Operating Officer. The Department's litigating and policy components, law enforcement agencies, and 93 U.S. Attorneys report to the Deputy.
A 15-year veteran of the Department of Justice, Deputy Attorney General Monaco served as a career federal prosecutor and in several leadership positions across the Department. She began her Justice Department career as Counsel to Attorney General Janet Reno and went on to serve as an Assistant United States Attorney (AUSA) for the District of Columbia. After this, Monaco served in several leadership roles: Chief of Staff at the Federal Bureau of Investigation to then Director Robert S. Mueller, III; Principal Associate Deputy Attorney General; and Assistant Attorney General for National Security, as the first woman to hold that position.
From 2013-2017, Deputy Attorney General Monaco was the Homeland Security and Counterterrorism Advisor to the President. In that role, she coordinated the Executive Branch's policy and response to a wide range of security issues – including the response to international and domestic terrorist incidents, cyber threats, and natural disasters – and advised the President on all aspects of counterterrorism policy and strategy.
Deputy Attorney General Monaco has served in private practice and taught national security law. She was born and raised in Massachusetts and is a graduate of Harvard University and the University of Chicago Law School.
To request an accommodation or for inquiries about accessibility, please contact Christine Hurley, Director of Production & Special Events at cehurley@uchicago.edu or (773) 834-3481.