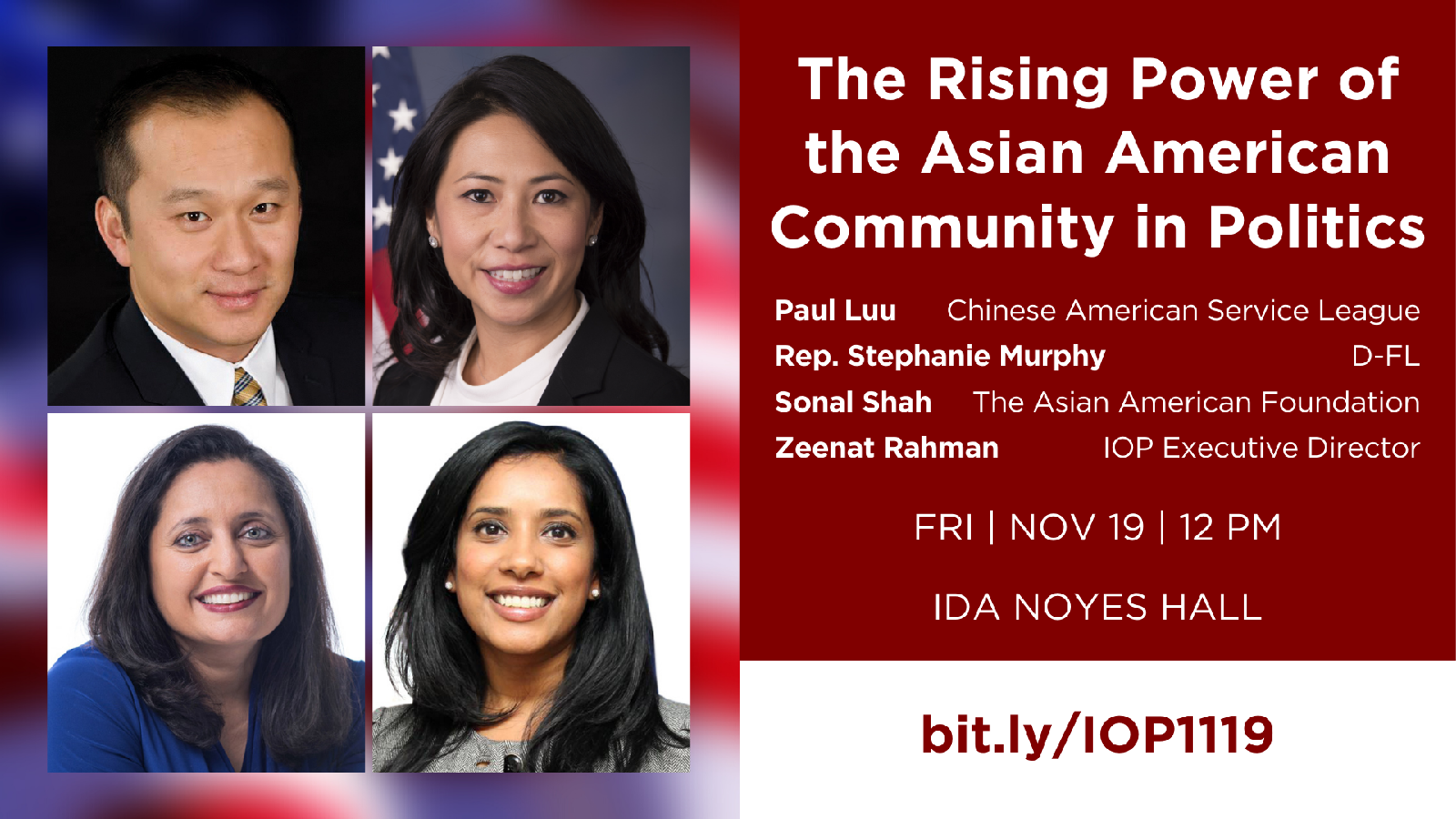 The Rising Power of the Asian American Community in Politics
---
Ida Noyes Library
Friday, November 19
12:00PM-1:00PM
Please join the Institute of Politics in person for a discussion regarding the rising role of the Asian American community in politics. Voter turnout among Asian Americans has jumped from 49.3% in 2014 to 59.5% in 2020. The community's turnout played a key role in swing states during the 2020 presidential election and in competitive congressional elections. At the same time, Asian Americans have also been increasingly targeted with hate crimes.
To describe the many issues facing the community, a panel of Asian American leaders will speak at the IOP, including:
Rep. Stephanie Murphy, a third-term member of the U.S. House of Representatives and the first Vietnamese-American woman to serve in Congress. She is the co-chair of the Blue Dog Coalition of moderate House Democrats. Elected in 2016, Rep. Murphy represents the 7th Congressional District of Florida that includes much of the greater Orlando metropolitan area. She serves on the Ways and Means Committee and the Armed Services Committee.
Sonal Shah, founding president of The Asian American Foundation and Senior Practitioner Fellow at the University of Chicago Center for Effective Governance based at the Harris School of Public Policy. She is one of the foremost global leaders on social impact and innovation and previously served as Deputy Assistant to President Obama and Director of the White House Office of Social Innovation and Civic Participation.
Paul Luu is Chinese American Service League's (CASL) Chief Executive Officer. He is a non-profit advocate committed to building organizational capacity for Mutual Assistance Associations (MAA) in the greater Chicagoland area.

Moderating the discussion will be Zeenat Rahman, IOP Executive Director.
This convening is open to all invitees who are compliant with UChicago vaccination requirements and, because of ongoing health risks, particularly to the unvaccinated, participants are expected to adopt the risk mitigation measures (masking and social distancing, etc.) appropriate to their vaccination status as advised by public health officials or to their individual vulnerabilities as advised by a medical professional. Public convening may not be safe for all and carries a risk for contracting COVID-19, particularly for those unvaccinated. Participants will not know the vaccination status of others and should follow appropriate risk mitigation measures.
If you are not currently affiliated with the University (enrolled student, faculty, or staff) it is expected that you review the University's COVID mitigation efforts. The University expects every person who comes to a University facility, whether as an academic appointee, postdoctoral researcher, staff member, student, volunteer, contractor, or visitor, to adopt precautions designed to mitigate the risk of viral transmission.
To request an accommodation or for inquiries about accessibility, please contact Christine Hurley, Director of Production & Special Events at cehurley@uchicago.edu or (773) 834-3481.
Not able to join us in-person? Watch the livestream!