Permanent Emergency: Gov. Jay Inslee on Fighting Climate Change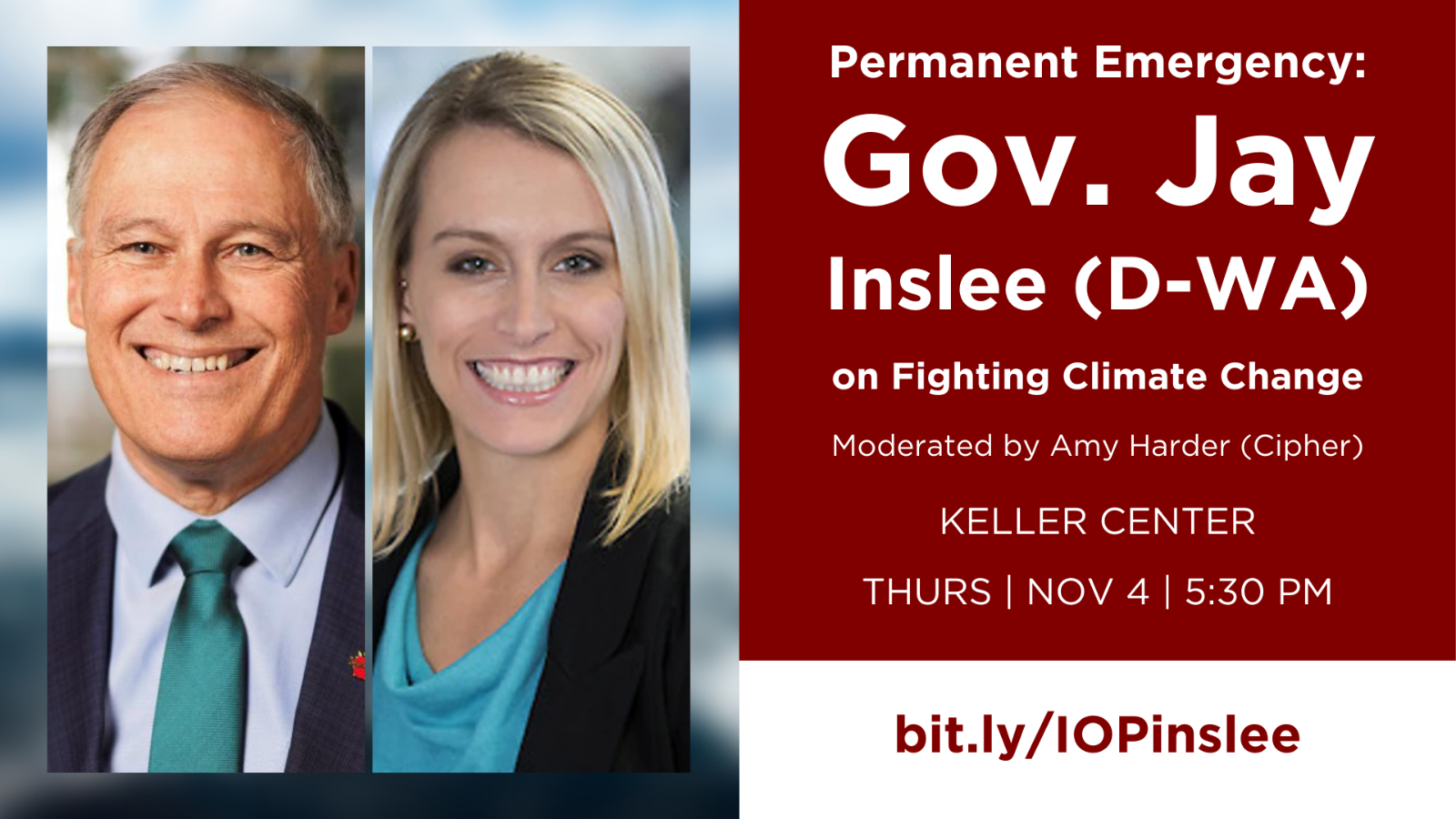 ---
Keller Center
Thursday, November 4
5:30pm-6:45pm
Please join the Institute of Politics in person as we welcome Gov. Jay Inslee of the State of Washington. When Gov. Inslee ran for president in 2020, he was known as the "climate change candidate" for his intense focus on environmental policy issues and his pleas for the world to take immediate action to combat the damage done by humans to our planet.
The record temperatures and devastating fires during the summer of 2021 in the Pacific northwest states of the U.S. prompted Gov. Inslee to call this moment the "beginning of a permanent emergency" that requires the world to tackle climate change in earnest.
As policymakers throughout the world descend on Glasgow, Scotland for the UN Climate Change Conference, award-winning energy and climate change journalist Amy Harder, executive editor of Cipher, will moderate the conversation with Gov. Inslee. They will examine what the world must do now to attack climate pollution.
This convening is open to all invitees who are compliant with UChicago vaccination requirements and, because of ongoing health risks, particularly to the unvaccinated, participants are expected to adopt the risk mitigation measures (masking and social distancing, etc.) appropriate to their vaccination status as advised by public health officials or to their individual vulnerabilities as advised by a medical professional. Public convening may not be safe for all and carries a risk for contracting COVID-19, particularly for those unvaccinated. Participants will not know the vaccination status of others and should follow appropriate risk mitigation measures.
If you are not currently affiliated with the University (enrolled student, faculty, or staff) it is expected that you review the University's COVID mitigation efforts. The University expects every person who comes to a University facility, whether as an academic appointee, postdoctoral researcher, staff member, student, volunteer, contractor, or visitor, to adopt precautions designed to mitigate the risk of viral transmission. Masks are required to be worn in all University facilities.
To request an accommodation or for inquiries about accessibility, please contact Christine Hurley, Director of Production & Special Events at cehurley@uchicago.edu or (773) 834-3481.
Not able to join us in-person? Watch the livestream!