Description
Playbook for Republicans: Former Gov. Chris Christie (R-NJ)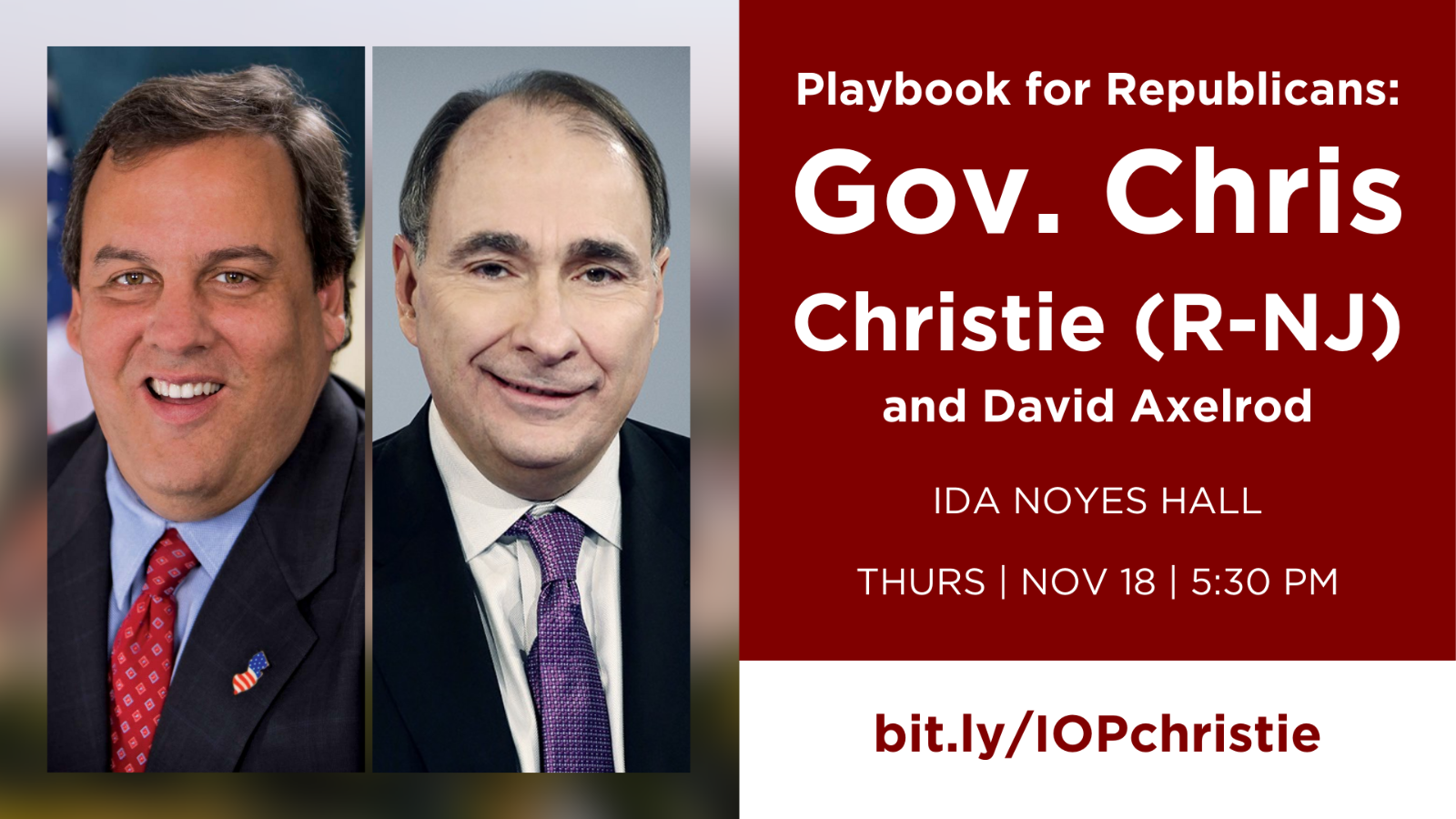 ---
IDA NOYES HALL
Thursday, November 18
5:30pm-6:45pm
Please join the Institute of Politics in person as we welcome former Gov. Chris Christie of New Jersey. Gov. Christie is the author of the new book, Republican Rescue, a playbook for Republicans to win the White House and take back Congress. The two-term governor of New Jersey calls on Republicans to stop the infighting, truth-denying, wild conspiracy claims, and looking backward to instead focus on providing an alternative to what he calls the dangerous Biden agenda.
Gov. Christie tells readers how grievances and self-inflicted wounds sabotaged Donald Trump's successes and let Democrats win the White House and Congress. He dissects the last year of the Trump administration—marked by conspiracy theories and infighting—and he lays out his vision to lead Republicans back into power.
The governor believes the core Republican values of Abraham Lincoln, Teddy Roosevelt, and Ronald Reagan are as relevant now as they have ever been historically. But Gov. Christie writes that these Republican ideals need to be reinvigorated with fresh clarity and open arms.
IOP Founding Director David Axelrod will moderate the conversation, and copies of Republican Rescue: Saving the Party from Truth Deniers, Conspiracy Theorists, and the Dangerous Policies of Joe Biden will be for sale.
This convening is open to all invitees who are compliant with UChicago vaccination requirements and, because of ongoing health risks, particularly to the unvaccinated, participants are expected to adopt the risk mitigation measures (masking and social distancing, etc.) appropriate to their vaccination status as advised by public health officials or to their individual vulnerabilities as advised by a medical professional. Public convening may not be safe for all and carries a risk for contracting COVID-19, particularly for those unvaccinated. Participants will not know the vaccination status of others and should follow appropriate risk mitigation measures.
If you are not currently affiliated with the University (enrolled student, faculty, or staff) it is expected that you review the University's COVID mitigation efforts. The University expects every person who comes to a University facility, whether as an academic appointee, postdoctoral researcher, staff member, student, volunteer, contractor, or visitor, to adopt precautions designed to mitigate the risk of viral transmission.
To request an accommodation or for inquiries about accessibility, please contact Christine Hurley, Director of Production & Special Events at cehurley@uchicago.edu or (773) 834-3481.
Not able to join us in-person? Watch the livestream!