Congressman Hakeem Jeffries (D-NY) on Leadership & Politics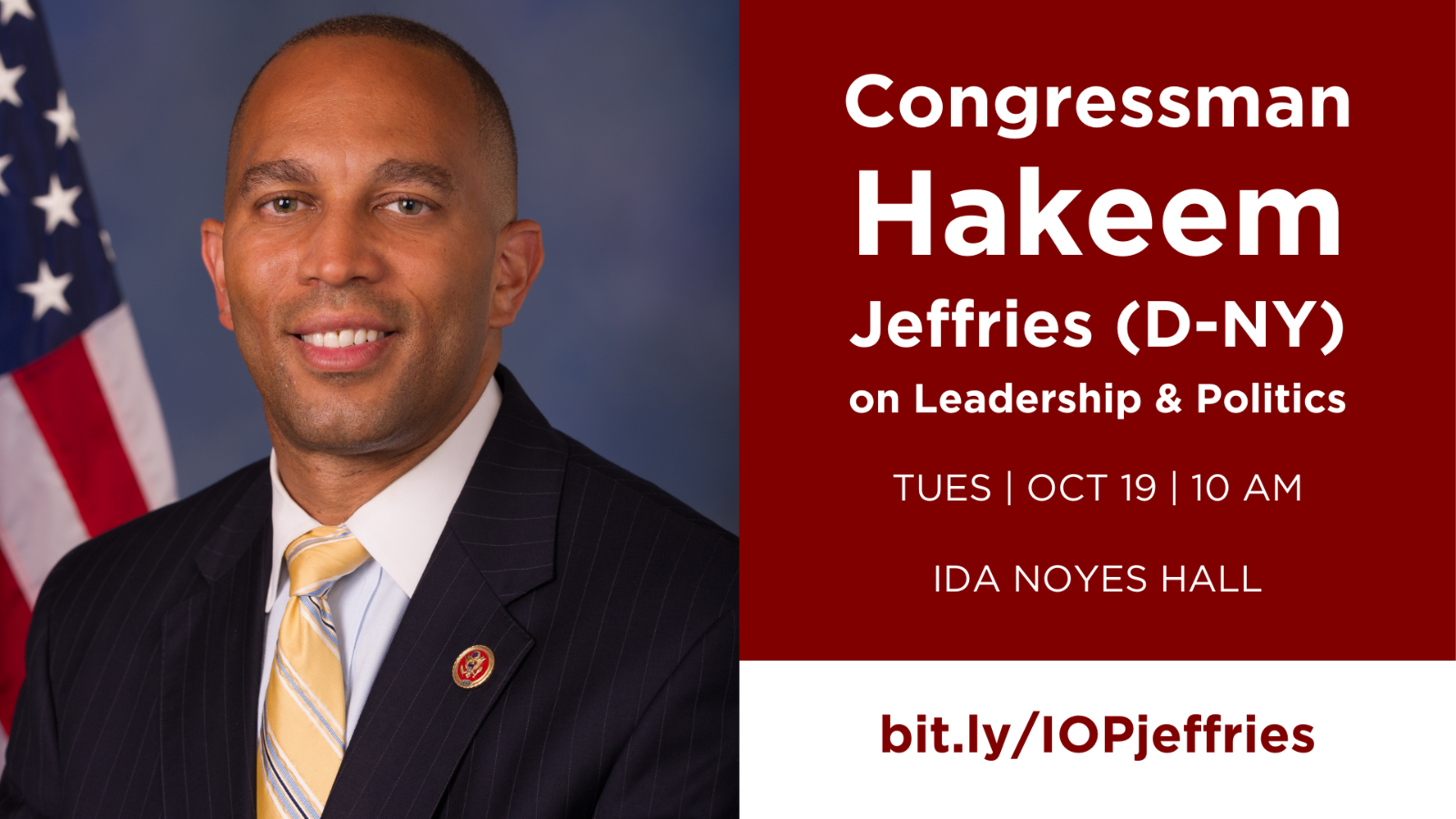 ---
October 19, 2021
Ida Noyes Hall
10AM-11:15AM
Please join the Institute of Politics as we welcome in person Rep. Hakeem Jeffries, chairman of the House Democratic Caucus and the fifth highest-ranking Democrat in the U.S. House of Representatives. He serves on Speaker Pelosi's leadership team and is a key architect of House Democratic messaging and advocacy. Elected to Congress in 2012, Rep. Jeffries represents New York's 8th Congressional District in Brooklyn and Queens.
Rep. Jeffries became the first African American male to serve as an impeachment manager during the first impeachment of former President Donald Trump. He paid homage to his Brooklyn roots during the impeachment trial in the U.S. Senate when he quoted The Notorious B.I.G. as part of the case by the House impeachment managers against Trump.
Criminal justice reform is one of Rep. Jeffries's top priorities, and he successfully helped pass The First Step Act in December 2018 to help thousands of Americans incarcerated and focused on correcting many of the injustices occurring within the federal prison system.
Before being elected to the U.S. House of Representatives, Rep. Jeffries served for six years in the New York State Assembly and practiced law. He received his bachelor's degree at the State University of New York at Binghamton, earned a master's degree in public policy from Georgetown University and graduated magna cum laude at New York University School of Law.
Moderating this discussion is IOP Director David Axelrod.
This convening is open to all invitees who are compliant with UChicago vaccination requirements and, because of ongoing health risks, particularly to the unvaccinated, participants are expected to adopt the risk mitigation measures (masking and social distancing, etc.) appropriate to their vaccination status as advised by public health officials or to their individual vulnerabilities as advised by a medical professional. Public convening may not be safe for all and carries a risk for contracting COVID-19, particularly for those unvaccinated. Participants will not know the vaccination status of others and should follow appropriate risk mitigation measures.
If you are not currently affiliated with the University (enrolled student, faculty, or staff) it is expected that you review the University's COVID mitigation efforts. The University expects every person who comes to a University facility, whether as an academic appointee, postdoctoral researcher, staff member, student, volunteer, contractor, or visitor, to adopt precautions designed to mitigate the risk of viral transmission.
If you have any questions about accessibility, please contact Christine Hurley (cehurley@uchicago.edu).