Drawing Districts: It's Not Just for the Hunger Games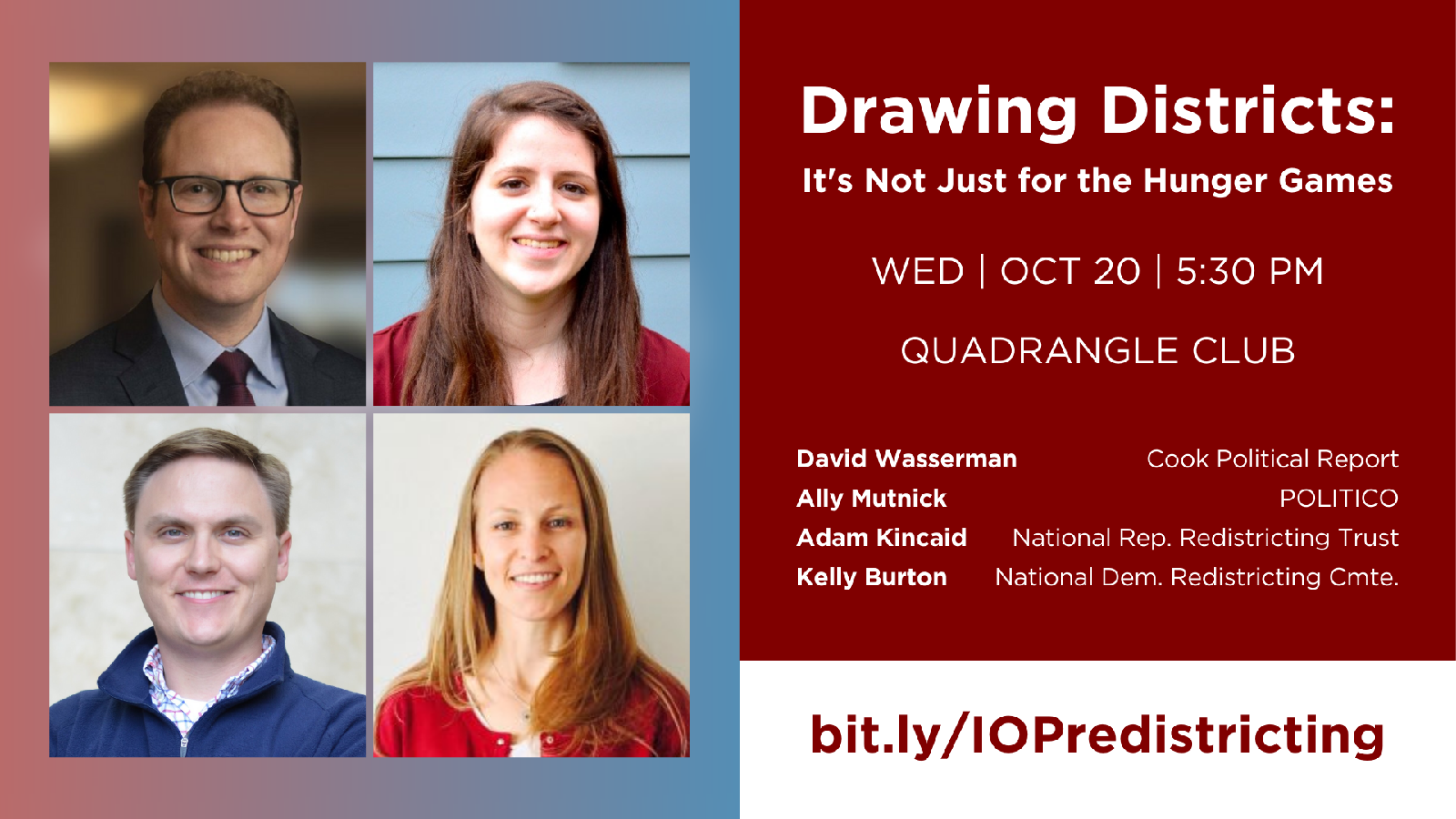 ---
Quadrangle Club
October 20, 2021
5:30PM-6:45PM
Please join the Institute of Politics as we welcome in person David Wasserman, Senior Editor of the Cook Political Report, and Ally Mutnick, POLITICO campaigns reporter. Adam Kincaid, President and Executive Director of the National Republican Redistricting Trust, and Kelly Burton, President of the National Democratic Redistricting Committee, will participate virtually in a discussion about the state-by-state brawl over congressional redistricting and the changing trends in political geography.
Every ten years, the issue of congressional redistricting gets renewed attention from the public and politicians. But why should we care about this decennial exercise in political cartography?
The top Republican and Democratic strategists who are responsible for guiding each party's efforts to draw maps for the U.S. House will detail their efforts to end up with the upper hand (and a majority in Congress). Carving up states into districts has sparked controversy dating back to the early 19th century and the late Massachusetts Gov. Elbridge Gerry's infamous partisan state legislative map that coined the word, gerrymandering.
Is it possible to take the partisan politics out of the redistricting process? Our guests will talk about the impact of state efforts to enact independent redistricting commission to remove the highly partisan aspects of redistricting. And the role of math and computer science to combat gerrymandering will also be examined.
This convening is open to all invitees who are compliant with UChicago vaccination requirements and, because of ongoing health risks, particularly to the unvaccinated, participants are expected to adopt the risk mitigation measures (masking and social distancing, etc.) appropriate to their vaccination status as advised by public health officials or to their individual vulnerabilities as advised by a medical professional. Public convening may not be safe for all and carries a risk for contracting COVID-19, particularly for those unvaccinated. Participants will not know the vaccination status of others and should follow appropriate risk mitigation measures.
If you are not currently affiliated with the University (enrolled student, faculty, or staff) it is expected that you review the University's COVID mitigation efforts. The University expects every person who comes to a University facility, whether as an academic appointee, postdoctoral researcher, staff member, student, volunteer, contractor, or visitor, to adopt precautions designed to mitigate the risk of viral transmission.
If you have any questions about accessibility, please contact Christine Hurley (cehurley@uchicago.edu).